Model Knowledge Management (Studi Perbandingan Bappeda Kota Surabaya dan Kabupaten Sragen)
Keywords:
Knowledge Management, Akusisi, Diseminasi, dan Aplikasi Pengetahuan
Abstract
Abstrak : Pada era globalisasi perkembangan ilmu pengetahuan dan teknologi terjadi sangat cepat dan kedua hal tersebut merupakan daya saing organisasi untuk mengembangkan diri. Konsekuensinya, dalam mengerjakan tugas pokok dan fungsi harus berbasis pengetahuan dan bukan common sense. Oleh karena itu knowledge management menjadi penting keberadaannya dalam setiap organisasi. Penelitian ini bertujuan untuk melihat Model Knowledge Management, khususnya terkait dengan akuisisi, diseminasi, dan aplikasi pengetahuan pada Bappeda Kota Surabaya dan Kabupaten Sragen. Penelitian ini menggunakan metode deskriptif kuantitatif. Data diperoleh melalui angket yang disebarkan kepada kepada pegawai Bappeda pada Kota Surabaya dan Kabupaten Sragen. Kedua daerah dan instansi di masing-masing daerah dipilih secara purposive. Dalam hal ini peneliti berasumsi bahwa instansi Bappeda karena tuntutan tugas dan fungsinya sangat tergantung pada pengetahuan. Hasil penelitian menunjukkan adanya perbedaan dalam hal akuisisi pengetahuan antara kedua kota tersebut. Kota Surabaya banyak menggunakan teknologi dalam mengakusisi pengetahuan seperti pra-musrembang secara online. Sedangkan kabupaten Sragen masih menggunakan cara konvensional melalui rembuk warga. Untuk diseminasi pengetahuan kedua kota tersebut memiliki kesamaan model yaitu menggunakan e- Government. Sedangkan dalam mengaplikasikan pengetahuan kedua kota tersebut baru sebatas dalam bentuk SOP, notulen rapat, dan belum memiliki penerbitan berkala seperti jurnal dan majalah.
Kata kunci : Knowledge Management, Akusisi, Diseminasi, dan Aplikasi Pengetahuan.
Abstract : In the era of globalization, the advancement of science and technology take place in amasingly fast pace, and both are determinant of organizational competitiveness in advancing itself. Consequently, the execution of tasks and functions must be knowledge- based rather than a common sense. Therefore, knowledge management becomes important for every organization. This study attempts to investigate knowledge management, especially in relation to acquisition, dissemination and application of nowledge at the Planning Board of Sragen Regency and the City of Surabaya. This study employs a descrtiptive quantitative method. Data were gathered using questionnaires distributed to staff at the Planning Board of Sragen Regency and City of Surabaya. Both local government and institutions were selected purposively. The researcher assumes that a Planning Board, by the nature of its functions, is a type of organization which is highly reliant knowledge. The results of the study shows that there are differences between planning Boards in both local governments in terms of knowledge acquisition. The city of Surabaya intensively employs technology in acquiring knowledge such as online local planning deliberation (e-Musrenbang). Sragen regency on the other hand uses a rather traditional method called Citizen Deliberation (rembuk warga). For dissemination of knowledge, both local governments share the similar models, that is using e-Government. In the application of knowledge both local governments are in the stage of using standard operational procedures, meeting minutes, and they both have not run publications such as journal or magazine.
Keywords : Knowledge Management, knowledge Acquisition, knowledge Dissemination, knowledge Application.
Downloads
Download data is not yet available.
References
Aldi, B. E. 2005. Menjadikan Manajemen Pengetahuan Sebagai Keunggulan Kompetitif Perusahaan Melalui Strategi Berbasis Pengetahuan. Studi Manajemen & Organisasi Vol.2 No. 1.
Dalkir, K. 2005. Knowledge Management In Theory And Practice. London: Elsevier Butterworth-Heinemann.
Filemon A. Uriarte, J. 2008. Introduction to Knowledge Managment. Jakarta: Asean Foundation.
Huang, W., K. Siau, et al. 2005. Electronic Government Strategies and Implementation. Electronic Government Strategies and Implementation. D. Mehdi Khosrow-Pour. Hershey, New York: Idea Group Inc.
Kingston, J. K. C. 2012. Tacit Knowledge:Capture, Sharing, And Unwritten Assumptions. Knowledge Management Practice Vol.13 No 3: 1-12.
McNabb, D. E. 2007. Knowledge Management in the Public Sector. New York: M.E.Sharpe Inc.
Munir, N. S. 2004. Penerapan Manajemen Pengetahuan di Perusahaan di Indonesia. ppm - manajemen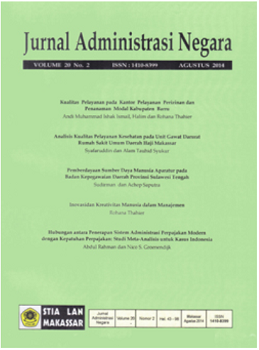 Downloads
How to Cite
Chairunisa, Frida, and Muhammad Firdaus. 2014. "Model Knowledge Management (Studi Perbandingan Bappeda Kota Surabaya Dan Kabupaten Sragen)". Jurnal Administrasi Negara 20 (3):99-114. https://doi.org/10.33509/jan.v20i3.11.