ANALYSIS OF EMPLOYEE PERFORMANCE IN PT. BANK MANDIRI (Persero), Tbk. CENDRAWASIH MAKASSAR BRANCH
Gadis Gayatri

Call Center pt. Bank Mandiri (Persero) Tbk. Cabang Cendrawasih Makassar

Amir Imbaruddin

Sekolah Tinggi Ilmu Administrasi Lembaga Administrasi Negara Makassar

Muttaqin Muttaqin

Sekolah Tinggi Ilmu Administrasi Lembaga Administrasi Negara Makassar
Keywords:
total work done, quality of work, timeliness, attendance and ability to cooperate
Abstract
Abstract
The current era of globalization requires companies to always adjust their strategies to changes that occur in order to survive or guarantee the continuity of the company.  Human resources are the main role in every company activity. Despite many facilities and infrastructures, without the support of human resources, the company's activities will not run well. To achieve company goals, employees are required to maximize their performance. The purpose of this study was to determine and analyze how employee performance appraisal at PT. Bank Mandiri (Persero) Tbk. Cendrawasih Makassar Branch, with a qualitative approach, and using instruments through interviews, observation and document review. While data collectiotechniques are through interviews, observation and document review. Data processing technique is descriptive analysis. The result of the study shows that most employees finish their work based on the estimated targets and are capable to increase the demand of loan credit. Judging the aspect of the quality of the work, the level of error in completing the work is still low and besides that, each employee complete  the work according to the specified objectives. Judging from the timeliness aspect, employees have the ability to complete each job in a timely manner. Judging the aspect of attendance, that employee attendance is relatively high because employees attend the office on time. While in terms of the ability to cooperate, this study found that employees in doing work always establish cooperation with other colleagues and collaborate in a teamwork and maintain good relationship between superiors and subordinates.
References
Salim, Agus. 2006. Teori & Paradigma Penelitian Sosial. Yogyakarta: Tiara Wacana
Ambar, Teguh, Sulistiyani dan Rosidah. 2013. Manajemen Sumber Daya Manusia, Konsep Teori dan Pengembangan Dalam Konteks Organisasi Publik, edisi kedua, cetakan pertama. Jakarta: Graha Ilmu
Bangun, Wilson. 2012. Manajemen Sumber Daya Manusia, edisi pertama, cetakan pertama. Jakarta: Erlangga
Hakim, Rahmat Budi. 2014. Manajemen dan Evaluasi Kinerja Karyawan, edisi pertama, cetakan pertama. Jakarta: Aswaja Pressindo
Moeheriono. 2012. Pengukuran Kinerja Berbasis Kompetensi. Jakarta: Raja Grafindo Persada
Masana, Sembiring . 2012. Budaya Kinerja Organisasi (Perspektif Organisasi Pemerin-tah). Bandung: Fokus Media
Sinambella, Poltak Lijan. 2012. Kinerja Karyawan Teori Pengukuran dan Implikasi, edisi pertama, cetakan pertama. Jakarta: Graha Ilmu
Sugiyono. 2012. Memahami Penelitian Kualitatif. Bandung: Alfabeta
Sujarweni. 2016. Kupas Tuntas : Penelitian Akuntansi dengan SPSS, edisi lengkap, Jakarta: Pustaka Baru Press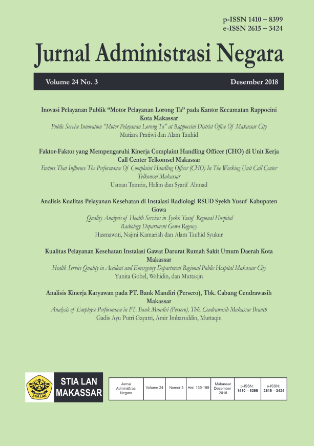 How to Cite
Gayatri, Gadis, Amir Imbaruddin, and Muttaqin Muttaqin. 2018. "ANALYSIS OF EMPLOYEE PERFORMANCE IN PT. BANK MANDIRI (Persero), Tbk. CENDRAWASIH MAKASSAR BRANCH". Jurnal Administrasi Negara 24 (3), 189-99. https://doi.org/10.33509/jan.v24i3.349.
Copyright (c) 2018 Jurnal Administrasi Negara
This work is licensed under a Creative Commons Attribution-NonCommercial-ShareAlike 4.0 International License.