RATIONALIZATION SENSITIVITY TEST ON DECISION TO CORRUPT IN PUBLIC SECTOR
Keywords:
pressure, rationalization, opportunity, corruption prevention, fraud triangle theory
Abstract
Refer to forensic accounting, the best way to combat corruption that is recognized the background behind the corrupt behavior. The public sector in Indonesia were surprised by the corruption perceptions index issued by Transparency International in early 2018, showed a deceleration corruption eradication efforts. Government institutions as the major in charge of the public sector get the spotlight from the public related to it. Therefore, the spirit of eradicate corruption need to be raised. Initially by trying to dissect the fraud triangle theory in order to find a suitable corruption prevention strategy for public sector agencies. This research intends to test the sensitivity of the 3 main variables: pressure, rationalization, and opportunity in the corruption prevention efforts. The sample used i.e. 47 people medical personnel at the Regional General Hospital Polewali Mandar Regency in West Sulawesi province. The incoming data is compiled and then analyzed using path analysis. The results of the analysis show that rationalization is the most effective variables in corruption prevention efforts in public agencies.
Downloads
Download data is not yet available.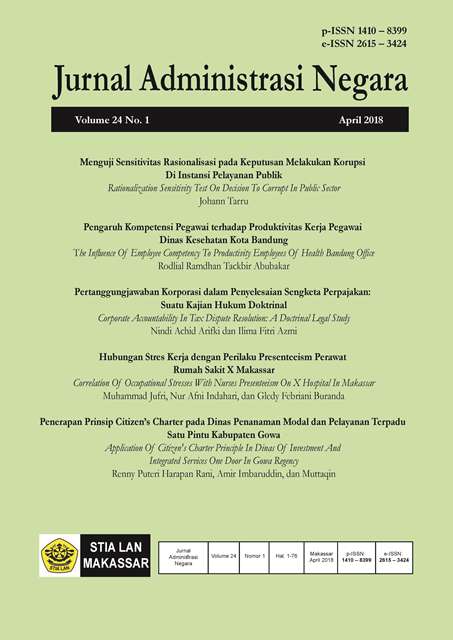 Downloads
How to Cite
Tarru, Johann. 2018. "RATIONALIZATION SENSITIVITY TEST ON DECISION TO CORRUPT IN PUBLIC SECTOR". Jurnal Administrasi Negara 24 (1):1-16. https://doi.org/10.33509/jan.v24i1.45.