PUBLIC OPINION ABOUT THE NEEDS OF PUBLIC TRANSPORTATION IN MUARA BUNGO JAMBI PROVINCE
Zepa Anggraini

Sekolah Tinggi Ilmu Administrasi Setih Setio
Keywords:
Community Opinion Study, Public Transportation Facilities, Muara Bungo.
Abstract
Discussions about public transportation are inseparable from the global definition of public transport or transportation activities that serve the public or the general public. It appears that public transportation arises because of traffic congestion effects, so that five transportation diseases arise, namely congestion, chaos, pollution (air and noise), accidents and high costs. Effective public transportation systems in some developed countries are supported by the involvement of enormous government subsidies. This study aims todetermine the level of public interest in the availability of public transportation facilities in Muara Bungo. The type of research used is descriptive quantitative research. This analysis uses data processing in the form of scoring and uses statistical analysis using SPSS software. 16. The level of public interest in the availability of public transportation facilities in Muara Bungo, based on findings from 300 sample respondents, 97% of respondents have a supporting opinionthe implementation of the Public Transportation System in Muara Bungo area. The form of preference (choice) of the Muara Bungo Moda public transportation mode, from the research findings, shows that the choice of respondents in the type of vehicle suitable for public transportation is Intermediate Bus by 43%. Theoretically, this type of research can be used as a preliminary study in developing public policy. For the Bungo District Government, it is necessary to conduct a study of the public transportation systemfeasilibily, referring to research findings that show the high interest of respondents on public transportation facilities.
References
Abidin, Said Zainal. 2006. Kebijakan Publik. Jakarta: Suara Bebas.
Agustino, Leo. 2008. Dasar-dasar Kebijakan Publik. Bandung: Alfabeta.
Halim, DK. 2008. Psikologi Lingkungan Perkotaan. Jakarta: Bumi Aksara.
Imawan, Prasetya. 2007. Penelitian Kualitatif dan Kuantitatif untuk Ilmu Sosial, FISIP UI, Jakarta.
Koentjaraningrat. 2009. Pengantar Ilmu Antropologi. Jakarta: Rineka Cipta.
Muthfisari, Alnurrizki. 2007. Sopan Santun Berlalu Lintas. Klaten: PT Maraga Borneo Tarigas.
Morissan. 2012. Metode Penelitian survey. Jakarta: Kencana.
Sadyohutomo, Mulyono. 2008. Manajemen Kota dan Wilayah. Jakarta: Bumi Aksara.
Santoso, Purwo. 2005. Menata Sistem Transportasi; mendekatkan demokrasi dengan rakyat dalam jurnal wacana, Tahun VI. Yogyakarta.
Sugiyono. 2010. Metode Penelitian Administrasi dilengkapi dengan Metode R&D. Bandung: Alfabeta.
Thoha, Miftah. 2010. Birokrasi Politik Indonesia. Jakarta: PT Raja Grafindo Persada.
Wismulyani, Endar. 2008. Transportasi di Indonesia dari Masa ke Masa. Klaten: Cempaka Putih.
Widodo. T. 2008. Metode Penelitian Kuantitatif. Surakarta: LPP UNS dan UNS Press.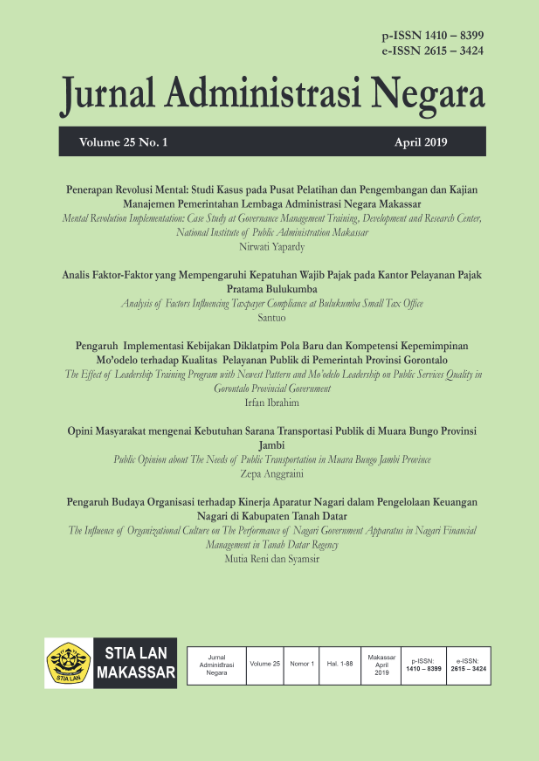 How to Cite
Anggraini, Zepa. 2019. "PUBLIC OPINION ABOUT THE NEEDS OF PUBLIC TRANSPORTATION IN MUARA BUNGO JAMBI PROVINCE". Jurnal Administrasi Negara 25 (1), 55 - 71. https://doi.org/10.33509/jan.v25i1.594.