THE EFFECT OF LEADERSHIP TRAINING PROGRAM WITH NEWEST PATTERN AND MO'ODELO LEADERSHIP ON PUBLIC SERVICES QUALITY IN GORONTALO PROVINCIAL GOVERNMENT
Irfan Ibrahim

Badan Pendidikan dan Pelatihan Provinsi Gorontalo
Keywords:
Training Policy, Leadership Competency, Public Services policy
Abstract
The purpose of this study was to investigate the effect of the improved leadership training program designed for lower level public service managers on the quality of public service in which the local wosdom of Mo'odelo leadership was treated as an intervening variable. This research employed a qualtitative approach using an explanatory survey technique. Data were collected through questionnaires and interviews. The were analysed using PLS (Partial Least Square) technique with the help of SmartPLS 3.1 software. The population consisted of lower level managers within the Gorontalo Provincial Government and ASN personnel at the Gorontalo Province Training Agency amounting to  520 people. Eighty-four sample respondets were drawn from the population. The results showed that: (1) the Newly improved leadership program for lower level did not directly affect on Public Services Quality; (2) the effect of the new leadership program on Public Services quality was mediated by indigenous Leadership Competency called Mo'odelo. This study therefore recommends that Gorontalo Provincial Government should complement the leadership development program with Mo'odelo as local wisdom if the objective is to include improvement of public service quality.
References
Astra, Fadilla. Mandey, Jantje, dan Londa, Very. 2016. Pengaruh Pendidikan dan Pelatihan Struktural terhadap Kompetensi Kepemimpinan Aparatur Sipil Negara: Studi di Sekretariat Daerah Kota Bitung. Jurnal Administrasi Publik Universitas Sam Ratulangi Vol.3 No.400 tahun 2016.
Basir, M. Askal. 2016. Pengaruh Pendidikan dan Pelatihan, Motivasi Kerja Terhadap Kualitas Pelayanan Dinas Kependudukan dan Catatan Sipil Kota Baubau. Jurnal Ilmu Pemerintahan Universitas Muhammadiyah Buton Vol.1 No.1 April 2016.
Botutihe, Medi. 2006. Mo'odelo: Sifat dan Perilaku Pemimpin Berdasarkan Nilai Lokal Gorontalo. Gorontalo: Pustaka Gorontalo.
Botutihe, Medi. dan Daulima, Farha. 2005. Pedoman Tata Upacara Adat Gorontalo. Jakarta: Media Otda
Christopher, William F., and Thor, Carl G. 2001. World-Class Quality and Productivity: Fiveteen Strategies for Improving Performance. United Kingdom: Financial World Publishing.
De Jong, Jeroen. 2007. Individual Innovation: The Connection between Leadership and Employees. Netherlands: EIM Business and Policy Research.
Edward III, George, 1980, Implementing Public Policy. Washingthon DC: Congressional Quarterly Press.
Ghozali, I., Latan, H. 2015. Konsep, Teknik, Aplikasi Menggunakan Smart PLS 3.0 Untuk Penelitian Empiris. Semarang: BP Undip.
Hasibuan, Malayu S.P. 2003. Manajemen Sumber Daya Manusia, Edisi Revisi, Jakarta: Bumi Aksara.
Heifetz, Ronald. Grashow, Alexander., and Linsky, Marty. 2009. The Practice of Adaptive Leadership. Massachusetts. UK: Harvard Business Press
Ibrahim, Irfan, 2018. Implementasi Kebijakan Diklatpim IV Pola Baru Dalam Meningkatkan Kualitas Pelayanan Publik di Pemerintah Provinsi Gorontalo. Jurnal Ilmu Administrasi STIA LAN Bandung Volume XV Nomor 2 Desember 2018. p 242-260.
, 2018. Pengaruh Implementasi Kebijakan Pendidikan dan Pelatihan Kepemimpinan Tingkat IV Pola Baru Terhadap Kompetensi Kepemimpinan Pejabat Pengawas di Lingkungan Pemerintah Provinsi Gorontalo. Jurnal Ilmiah Ilmu Administrasi Publik UNM Makassar Volume 8 Nomor 2 Juli-Desember 2018. p 165-172.
Kadji, Yulianto. 2015. Formulasi Dan Implementasi Kebijakan Publik. Gorontalo: UNG Press.
____________, 2016. Metode Penelitian Ilmu Administrasi. Yogyakarta: Deepublish.
Meyer, J.P, Allen, N.J. & Smith, C.A. 1993. Commitment to Organizations and Occupations: Extension and Test of A Three Component Conceptualization. Journal of Applied Psychology, 78 (4), 538-551.
Muhadi. 2017. Pengaruh Tingkat Pendidikan, Pelatihan dan Pengalaman Kerja Terhadap Peningkatan Kinerja Pelayanan Kepala Urusan (KAUR) di Desa (Studi pada Desa se Kecamatan Natar Kabupaten Lampung Selatan). Tesis. Universitas Lampung. Bandar Lampung.
Mulyadi, Mohammad. 2016. Metode Penelitian Praktis, Kuantitatif dan Kualitatif. Jakarta: Publica Press.
Parasuraman, A., Zeithaml, V.A. and Berry, L.L.1988. SERVQUAL: A Multi-Item Scale For Measuring Consumer Perceptions of The Service Quality. Journal of Retailing, Vol. 64, No. 1, pp. 12-40.
Pranata, Fajar Irja. 2015. Pengaruh Kompetensi Aparatur Pemerintah Terhadap Kualitas Pelayanan Publik Pada Kantor Kecamatan Sangatta Selatan Kabupaten Kutai Timur. Jurnal Ilmu Sosial Untag 1945 Samarinda Vol.1 No.2 Tahun 2015.
Punu, A. Sintia., Rompas, W.Y., dan Tampongangoy, Deysi L. 2014. Pengaruh Pendidikan dan Pelatihan (Diklat) Terhadap Kompetensi Kerja Aparatur di Sekretariat Daerah Kota Tomohon. Jurnal Administrasi Publik Universitas Sam Ratulangi Manado Vol. 3 No. 004 Tahun 2014.
Robbins, Stephen P. 2002. Prinsip-prinsip Perilaku Organisasi. Terjemahan: Halida.Edisi Kelima. Jakarta: Erlangga.
Robbins, Stephen, P. and Judge, A. Timothy. 2008. Perilaku Organisasi. Buku 1. Edisi ke-12. Jakarta: Salemba Empat.
Rondinelli, Dennis. 1998. Privatization, Governance, and Public Management: The Challenges Ahead. Business and The Contemporary World Vol.10 No.2 1998, p.167
Setiawan, dkk. 2015. Pengaruh Kepemimpinan Pelayan Terhadap Kinerja Pelayanan Publik Pegawai Negeri Sipil pada Pemerintah Kota Bekasi. Proceeding Seminar Psikologi dan Kemanusiaan. Malang: Psychology Forum UMM,
Setyawan, Dodi., dan Bagus, Nanang. 2014. Kualitas Kepemimpinan, Etos Moralitas Pribadi, Kompetensi, dan Pelayanan Publik. Jurnal Ilmu Administrasi Negara UTT Malang Vol.13 No. 1, Juli 2014.
Sopiah. 2008. Perilaku Organisasi. Yogyakarta: Andi.
Suryanto, Adi. 2016. Sistem Pengembangan Kader Pimpinan ASN: Sebuah Strategi Resolusi Percepatan Reformasi Birokrasi di Indonesia. Jurnal Pendayagunaan Aparatur Negara Vol.VI Tahun 2016.
Syukur, M. Hasan. 2015. Diklat Kepemimpinan Pola Baru, Apa, Bagaimana Implementasinya dan Tantangannya. Jurnal Forum Diklat Vol.04 No.2 Tahun 2015
Wahab, A Solichin. 2016. Analisis Kebijakan: Dari Formulasi Ke Penyusunan Model-Model Implementasi Kebijakan Publik. Jakarta: Bumi Aksara.
Weimer, David, L. and Vining, Aidan. R.1999. Policy Analysis: Concepts and Practice. New Jersey: Prentice Hall, Third Edition.
Widodo, Joko.2002. Akuntabilitas dan Kontrol Birokrasi. Surabaya:Insan Cendekia
Worsfold, Philip. 1999. HRM, Performance Index Approach to Managing. Service Quality, Vol.10, No.5, p.273-278.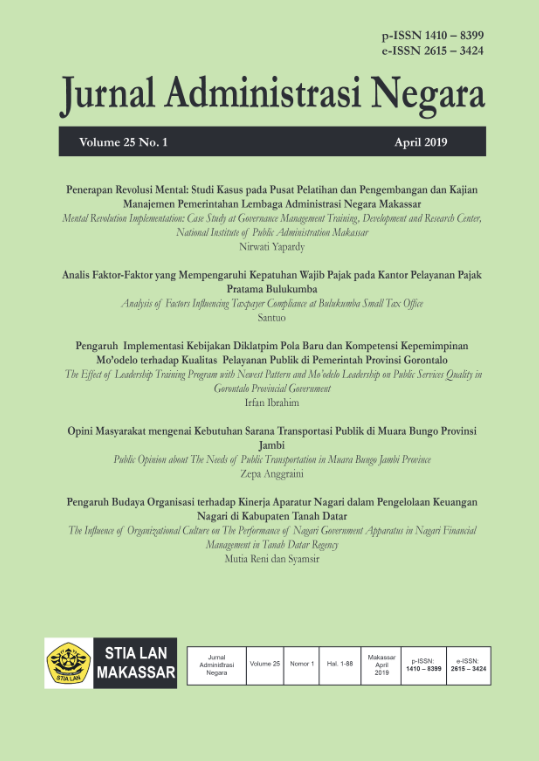 How to Cite
Ibrahim, Irfan. 2019. "THE EFFECT OF LEADERSHIP TRAINING PROGRAM WITH NEWEST PATTERN AND MO'ODELO LEADERSHIP ON PUBLIC SERVICES QUALITY IN GORONTALO PROVINCIAL GOVERNMENT". Jurnal Administrasi Negara 25 (1), 36-54. https://doi.org/10.33509/jan.v25i1.605.