A COMPETENCY IN IMPLEMENTING THE MEDIUM TERM EXPENDITURE FRAMEWORK (KPJM) OF BUDGET FIELD ON FINANCIAL AND REGIONAL INCOME DEPARTMENT OF WEST SULAWESI
Tri Susanti Resqi Andira

BADAN PENGELOLAAN KEUANGAN DAN PENDAPATAN DAERAH PROV. SULBAR

Muhammad Basri

Sekolah Tinggi Ilmu Administrasi Lembaga Administrasi Negara Makassar

Halim Halim

Sekolah Tinggi Ilmu Administrasi Lembaga Administrasi Negara Makassar
Keywords:
Implementation of MTEF, financial managers, budgeting
Abstract
This study aims to determine the extent of the readiness of the competency of the Civil Servant (ASN) in the implementation of the Budget Sector Medium Term Expenditure Framework (KPJM) of budget field on financial and regional income department of west sulawesi.  The method used in this study is a qualitative method with a descriptive approach, where this study uses interview guidelines as the main instrument of data collection. The informants in this study came from the staff of the budget department of BPKPD west sulawesi one person, secretary of BPKPD one person, the head of the budget department one person, the head of the sub-sector of the budget three people, the budget staff seven person. The results of the research are that the Medium Term Expenditure Framework system program is ready to be applied in the Budget Sector of the West Sulawesi Province Finance and Regional Revenue Management Agency as one of the needs in streamlining the management of the budgeting process, as well as the required competencies which have been a concern in terms of the ability to operate the Medium Term Expenditure Framework system is ready, only a little constrained by the absence of socialization or training and the absence of work guidelines for the application of (KPJM) as a reference for operating the (KPJM) system.
References
Basri, A,R. Muhammad. 2012. Budaya Organisasi dan Pelayanan Publik Suatu Pendekatan Dalam Pelayanan. Makassar:YAPMA
Busro, Muhammad. 2018. Teori-Teori Manajemen Sumber Daya Manusia. Jakarta:Prenadamedia Group
Fathoni, Abdurrahmat. 2006. Manajemen Sumber DayaManusia. Jakarta:PT Rineka Cipta
Hasibuan S.P. Malayu. 2007. Manajemen Sumber Daya Manusia. Jakarta:Bumi Aksara
Mangkunegara, A. Prabu. 2009. Manajemen Sumber Daya Manusia. Bandung:PT.Remaja Rosdakarya
Priansa, Donni, Juni. 2018. Perencanaan dan Pengembangan Sumber Daya Manusia. Bandung:Alfabeta
Robbins, Judge. 2007. Perilaku Organisasi. Jakarta:Salemba
Maharani, Nadia. 2012. Analisis Implementasi Kerangka Pengeluaran jangka Menengah dalam proses Perencanaan dan penganggaran pada Dinas Kependudukan dan Catatan Sipil Provinsi DKI Jakrta. Skripsi. Jakarta:Universitas Indonesia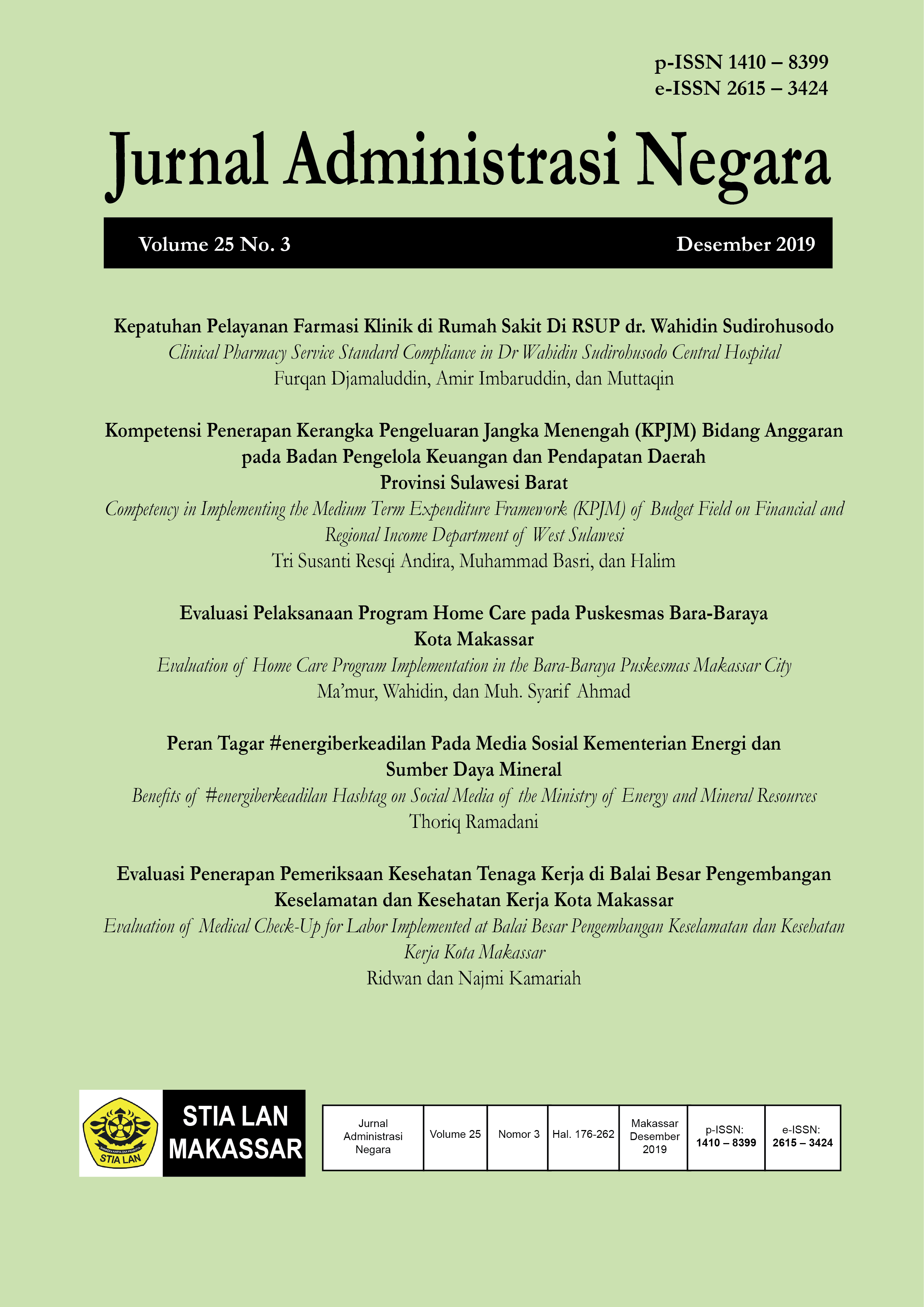 How to Cite
Andira, Tri Susanti, Muhammad Basri, and Halim Halim. 2019. "A COMPETENCY IN IMPLEMENTING THE MEDIUM TERM EXPENDITURE FRAMEWORK (KPJM) OF BUDGET FIELD ON FINANCIAL AND REGIONAL INCOME DEPARTMENT OF WEST SULAWESI". Jurnal Administrasi Negara 25 (3), 194 -. https://doi.org/10.33509/jan.v25i3.722.
Copyright (c) 2020 Tri Susanti Resqi Andira, Muhammad Basri, Halim Halim
This work is licensed under a Creative Commons Attribution-NonCommercial-ShareAlike 4.0 International License.