OBEDIENCE OF CLINICAL PHARMACY SERVICES IN RSUP DR. WAHIDIN SUDIROHUSODO
Furqan Djamaluddin

Rumah Sakit Umum Pusat Dr. Wahidin Sudirohusodo Makassar

Amir Imbaruddin

Sekolah Tinggi Ilmu Administrasi Lembaga Administrasi Negara Makassar

Muttaqin Muttaqin

Sekolah Tinggi Ilmu Administrasi Lembaga Administrasi Negara Makassar
Keywords:
Obedience, Pharmacy, Clinical Pharmacy, RSUP Dr. Wahidin Sudirohusodo
Abstract
Clinical pharmacy service is one of the patient-oriented health services so that it needs to be done in accordance with clinical pharmacy service standards to create quality and quality services. The purpose of this study was intended to find out how compliance with Clinical Pharmacy Services at RSUP Dr. Wahidin Sudirohusodo is in accordance with eleven clinical pharmacy service indicators based on Minister of Health Regulation No. 72 of 2016. The research method uses qualitative approach. Data collection was conducted at Dr. RSUP Wahidin Sudirohusodo Makassar with in-depth interviews, observation and documentation. The research informants were the Head of Pharmacy Installation, the Person in charge of Drug Information Services, the Responsible Department of Depos, Pharmacists, and Patients. The results found that ten indicators of clinical pharmacy services were assessment and prescription services, tracking drug use history, drug reconciliation, drug information services (PIO), counseling, visite, Drug Therapy Monitoring (PTO), Monitoring of Drug Side Effects (MESO), Evaluation Drug use (EPO), dispensing sterile preparations; and Monitoring of Drug Levels in Blood (PKOD) has been carried out well although there are still indicators that are not optimal. Only one indicator that has not yet been implemented is monitoring blood drug levels because it is constrained by the financing of facilities and infrastructure which are quite expensive. Compliance Clinical Pharmacy Services at RSUP Dr. Wahidin Sudirohusodo Makassar has done quite well but there are still a few things that need to be addressed by the hospital, including the need to increase human resources, scheduling more intense visite, adequate budgeting for the procurement of medical devices and educational media products.
References
Alamsyah, Dedi. 2011. Manajemen Pelayanan Kesehatan. Yogyakarta: NuhaMedika.
Amaranggana, Larasati. 2017. Pelayanan Informasi Obat yang Efektif dari Beberapa Negara untuk Meningkatkan Pelayanan Farmasi Klinik: Review. Jurnal Farmaka. 15 (1). p 20-28.
Manullang, Marihot. 2008. Dasar-Dasar Manajemen. Yogyakarta: Gadjah Mada University Press.
Moenir, H.A.S. 2010. Manajemen Pelayanan Umum di Indonesia. Jakarta: PT. Bumi Aksara.
Novaryatiin, Susi dkk. 2018. Tingkat Kepuasan Pasien terhadap Pelayanan Kefarmasian di RSUD Dr. Murjani Sampit. Borneo Journal of Pharmacy. 1(1). p 22-6.
Restriyani, Mustika. 2016. Persepsi Dokter Dan Perawat tentang Peran Apoteker Dalam Pelayanan Farmasi Klinik di Rumah Sakit PKU Muhammadiyah Yogyakarta (Skripsi). Yogyakarta: Universitas Muhammadiyah Yogyakarta.
RSUP Dr. Wahidin Sudirohusodo Makassar. Laporan Triwulan I Tahun 2019.
Rusli. 2016. Modul Bahan Ajar Cetak Farmasi: Farmasi Rumah Sakit dan Klinik. Jakarta Selatan: Pusat Pendidikan Sumber Daya Manusia Kesehatan-Kementerian Kesehatan Republik Indonesia.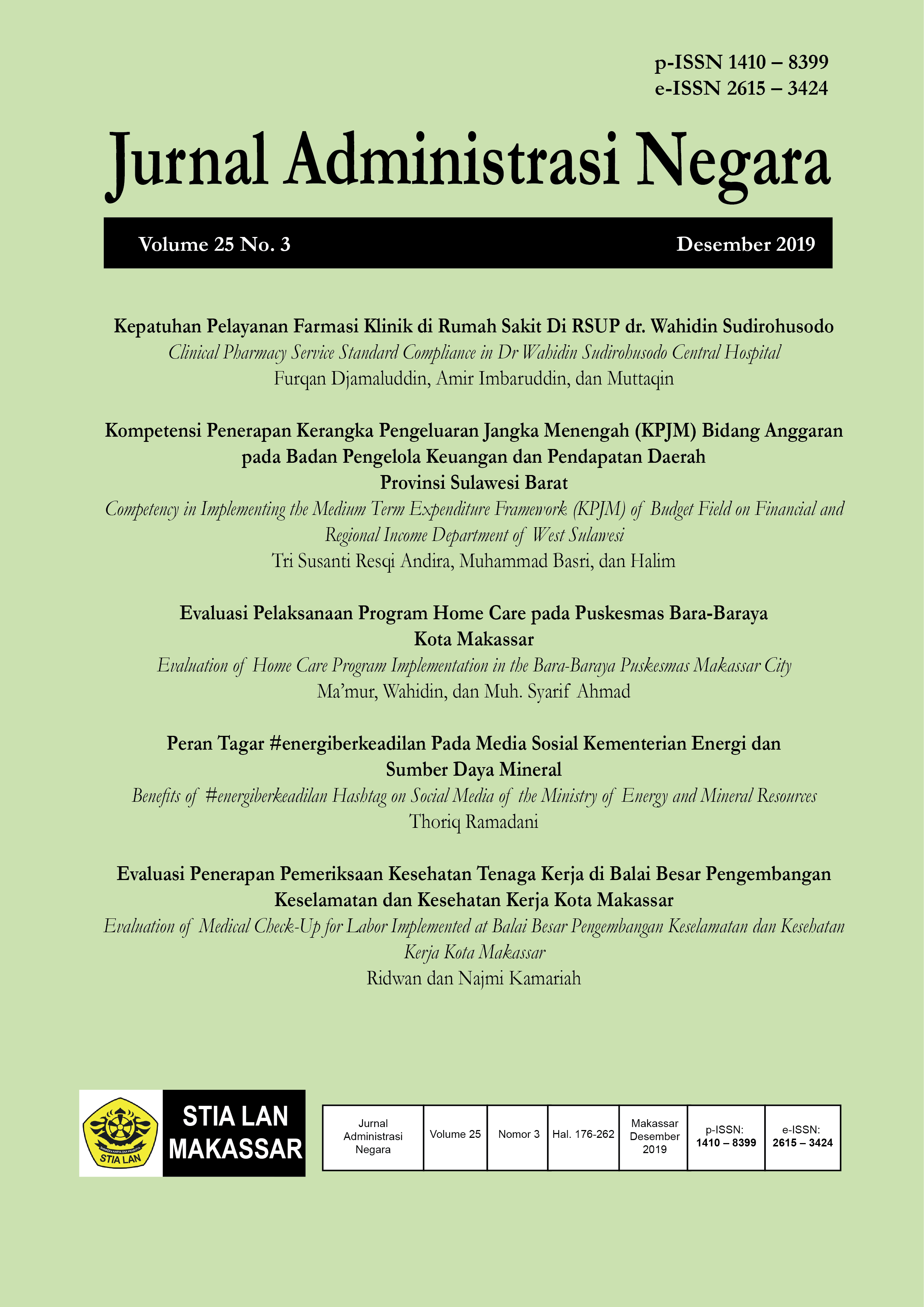 How to Cite
Djamaluddin, Furqan, Amir Imbaruddin, and Muttaqin Muttaqin. 2019. "OBEDIENCE OF CLINICAL PHARMACY SERVICES IN RSUP DR. WAHIDIN SUDIROHUSODO". Jurnal Administrasi Negara 25 (3), 176-93. https://doi.org/10.33509/jan.v25i3.923.
Copyright (c) 2020 Furqan Djamaluddin, Amir Imbaruddin, Muttaqin Muttaqin
This work is licensed under a Creative Commons Attribution-NonCommercial-ShareAlike 4.0 International License.