EVALUATION OF APPLICATION OF LABOR HEALTH EXAMINATION IN THE BIG DEVELOPMENT OF SAFETY AND HEALTH MAKASSAR CITY
Ridwan Ridwan

P3K MAKASSAR

Najmi Kamariah

Sekolah Tinggi Ilmu Administrasi-Lembaga Administrasi Negara Makassar
Keywords:
Health Check, Occupational Health and Safety
Abstract
Abstract

Health inspection activities on the workforce is still a challenge in its application because no initial health checks and special health checks on the workforce. Based on these considerations, this study aims to evaluate the application of labor inspection in the Center for Occupational Safety and Health Development, in accordance with Minister of Manpower and Transmigration No. 02 of 1980 concerning health checks and work safety management. The research method used was qualitative discussion material that discussed health issues at the Center for Occupational Safety and Health Development. Data sources analyzed were the results of interviews, direct observations in the field of services, the general field of labor and document review at the Makassar Center for Occupational Safety and Health Development. Research results related to the implementation of medical examinations in companies are still ineffective because they apply initial and special health examinations, the discussion offered by researchers for BBPK3 to revise or amend, Law No. 1 of 1970 concerning work safety and the application of ISO 15189 on clinical laboratory accreditation so that companies can examine initial, periodic and special occupational health, examine the workforce health of workers to improve efficiency and improve workforce performance higher.
Keywords : Health Check, Occupational Health and Safety
References
Arikunto, Suharsimi. Cepi, Safruddin AJ. 2010. Evaluasi Program Pendidikan. Jakarta: Bumi Aksara
Arikunto, Suharsimi. 2013. Prosedur Penelitian: Suatu Pendekatan Praktik. Jakarta: Rineka Cipata.
Gunawan, 2014 Metode Penelitian Pendidikan. Bandung: Alfabeta
Sugiyono. 2011. Metode Penelitian Kuantitatif, Kualitatif, Peneltian dan Pengembangan, Bandung: Alfabeta
Suma'mur, P.K. 1989. Keselamatan Kerja dan Pencegahan Kecelakaan. Jakarta: PT. Gunung Agung
Undang-Undang No.13 Tahun 2003 tentang ketenagakerjaan.
Undang-Undang Republik Indonesia Nomor 36 Tahun 2009 Tentang Kesehatan Pasal 53 UU Kesehatan.
Undang-Undang Nomor 25 Tahun 2009 Tentang Pelayanan Publik.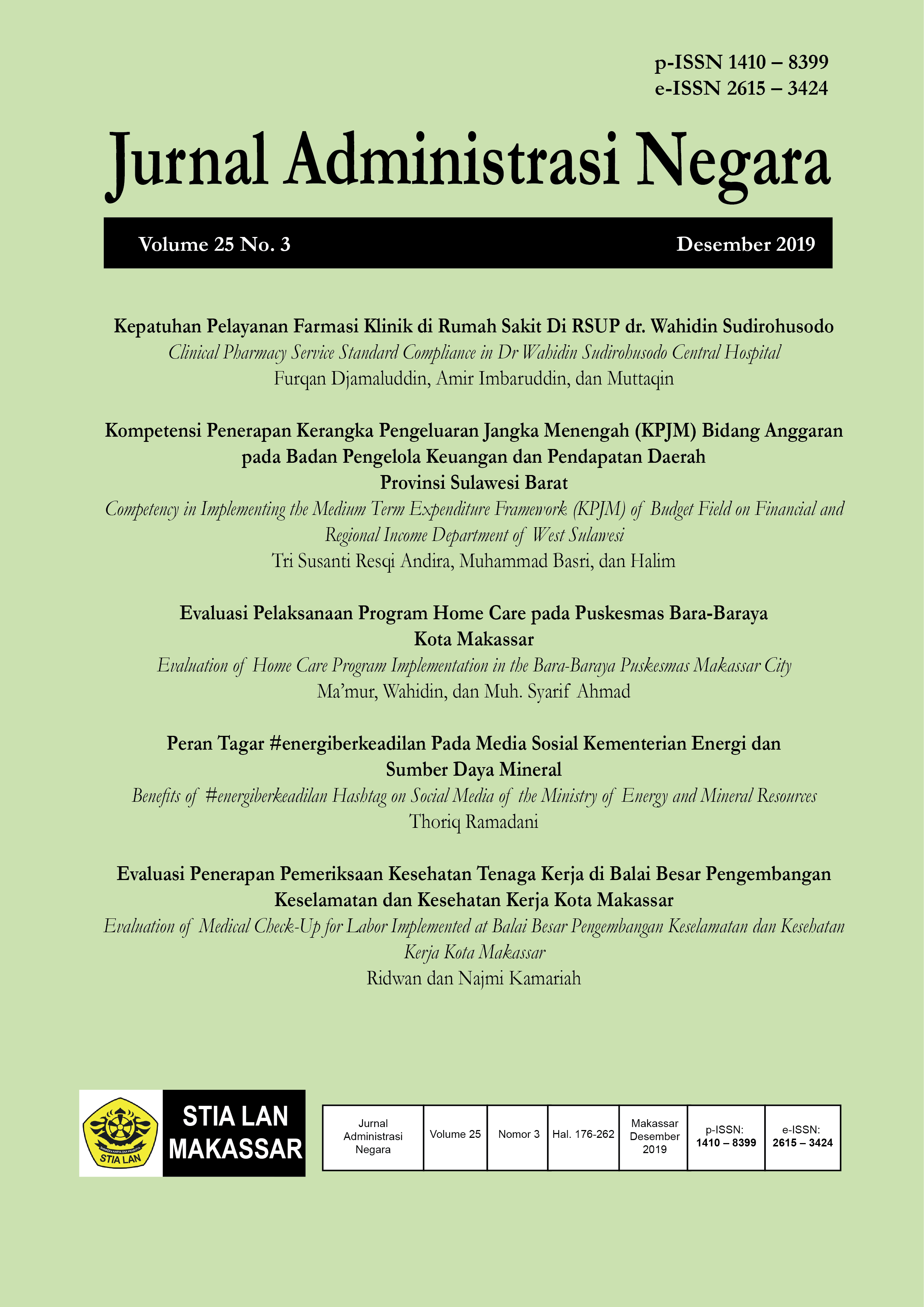 How to Cite
Ridwan, Ridwan, and Najmi Kamariah. 2019. "EVALUATION OF APPLICATION OF LABOR HEALTH EXAMINATION IN THE BIG DEVELOPMENT OF SAFETY AND HEALTH MAKASSAR CITY". Jurnal Administrasi Negara 25 (3), 246-62. https://doi.org/10.33509/jan.v25i3.976.
Copyright (c) 2020 Ridwan
This work is licensed under a Creative Commons Attribution-NonCommercial-ShareAlike 4.0 International License.