PUBLIC SERVICE INNOVATION "MOTOR PELAYANAN LORONG TA'' AT RAPPOCCINI DISTRICT OFFICE OF MAKASSAR CITY
Mutiara Pratiwi

Badan Pengelola Keuangan dan Aset Daerah Kota Makassar

Alam Tauhid Syukur

Sekolah Tinggi Ilmu Administrasi Lembaga Administrasi Negara Makassar
Keywords:
Innovation, Service vehicle Lorong Ta', Public Sector
Abstract
This study aims to find out how the implementation  of public service innovation is a case study  of Motor Pelayanan Lorong Ta' at Rappocini District Office of Makassar City. Has the implementation run in accordance with the values of public services or the other way, And what kind of procedures must be carried out by community to use this service. This study used a case study method with a qualitative approach and the unit of analysis in this study were the employees of the Rappocini Sub-district of Makassar City in this case the Head of the Sub-District, Secretary of the Sub-District and Motor Driver of the "Motor Pelayanan Lorong Ta" and some of the Rappocini Subdistrict communities.The results of the study show that the "Motor Pelayaan Lorong Ta" is already good enough just about timeliness,the lack of human resources and infrastructure provided by the sub-district is enough to be an obstacle in the implementation of these innovations so that this innovation cannot be said to be effective and efficient in providing services to the community.  Suggestions that can be give to the sub-district is adding more human resources and infrastructure so there is no delay in serving the community and no more wait longer.
 
References
Ancok, Djamaluddin. 2012. Psikologi Kepemimpinan dan Inovasi. Jakarta: Penerbit Erlangga
Ellitan, Lena dan Lina Anatan. 2009. Manajemen Inovasi Transformasi Menuju Organisasi Kelas Dunia, Bandung: Alfabeta
Fontana, Avanti. 2011. Manajemen Inovasi dan Penciptaan Nilai. Jakarta: Cipta Inovasi Sejahtera.
Makmur, Rohana. 2015. Inovasi & Kreativitas Manusia. Bandung: Refika Aditama.
Maria, 2014. Inovasi Pelayanan Publik di Badan Penanaman Modal dan Pelayanan Terpadu (BPMT) Kabupaten Raya. Jurnal Borneo Administrator. 10 (2). p 214-233.
Sugiyono. 2009. Metode Penelitian Bisnis (Pendekatan Kuantitatif, Kualitatif, dan R&D). Bandung: Alfabeta
Suwarno, Yogi. 2008. Inovasi di Sektor Publik, Jakarta: STIA-LAN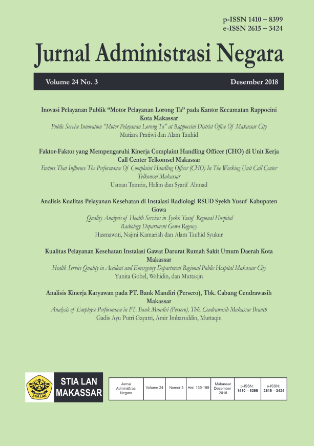 Copyright (c) 2018 Jurnal Administrasi Negara
This work is licensed under a Creative Commons Attribution-NonCommercial-ShareAlike 4.0 International License.