HEALTH SERVICE QUALITY IN ACCIDENT AND EMERGENCY DEPARTMENT EGIONAL PUBLIC HOSPITAL MAKASSAR CITY
Keywords:
Health Service Quality, Accident and Emergency Department, Makassar Regional Public Hospital
Abstract
Abstract
This study's focus on service quality of Accident and Emergency (A & E) department at regional public hospital in Makassar City and analyzied service quality dimensions such as time service, 1) Service accuracy, 3) Courtesy and guidance in providing services; 4) Responsibility; 5) Completeness; 6) Ease in getting services. This study is using qualitative descriptive method. Sources of the data were informants as Head of Space, Director/Deputy of Medical Services, Patient of ER (Emergency Room), nurses/midwives and Doctor in Charge of Patients. The data collection techniques were from interviews, observation and document review. The data validity was check using triangulation technique. The results showed in service timeliness dimension was already appropriate according to the 24 hours shift schedule of all of the staff. The accuracy service indicator was in a certain quality category. The staff were always strive to afford mistakes while handling the patients. The politeness and sociability indicators was good enough, according to how they treat the patuents with 5S principle. Eventhough the communication technique still needs to be fixed. The responsibility indicator assesment was in a good category due to assurance of patient safety. The completeness indicators was in a good category due to the clean hospital area and the facilities were already complete but employees needs to maintain the facilities. In the ease in getting services indicator which has a certain quality due to the complete supporting facilities that made service easier and convenient serve services also not convoluted.
Downloads
Download data is not yet available.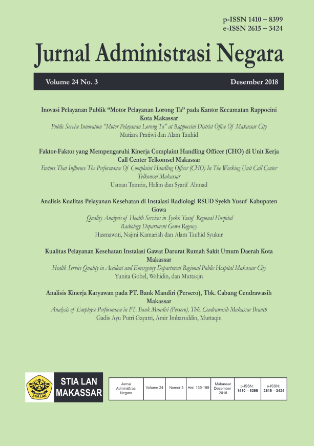 Downloads
How to Cite
Gobel, Yunita, Wahidin Wahidin, and Muttaqin Muttaqin. 2018. "HEALTH SERVICE QUALITY IN ACCIDENT AND EMERGENCY DEPARTMENT EGIONAL PUBLIC HOSPITAL MAKASSAR CITY". Jurnal Administrasi Negara 24 (3):177-88. https://doi.org/10.33509/jan.v24i3.420.